A True Champion, Alyssa Liddle battled and beat her greatest foe and continues to inspire those around her.
Cancer diagnosis story
I was diagnosed with Stage 3 Ewing's Sarcoma when I was 22. Now, at the age of 25 I am ready to take back my life and live it the way I want and can.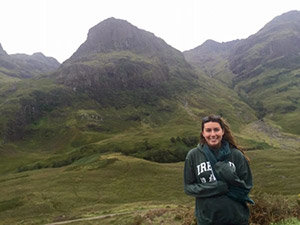 When I was diagnosed at such a young age, I felt like I had my whole life ahead of me with endless possibilities. I had just recently graduated from college and had also just gotten back from a long backpacking trip in Europe. I was working full time and had just started to date someone. So it really felt like I was living a great life with everything falling into place so quickly and easily. It is just crazy to me to think about how quickly that all had changed.
When Fall of 2016 came rolling through, I noticed some swelling in my right leg, just below my knee. I thought it was a blood clot. And I ended up getting diagnosed with Ewing's Sarcoma in April of 2017- multiple months after discovering the swelling. The diagnosis process itself was just a small taste of the whirlwind my life was about to go in.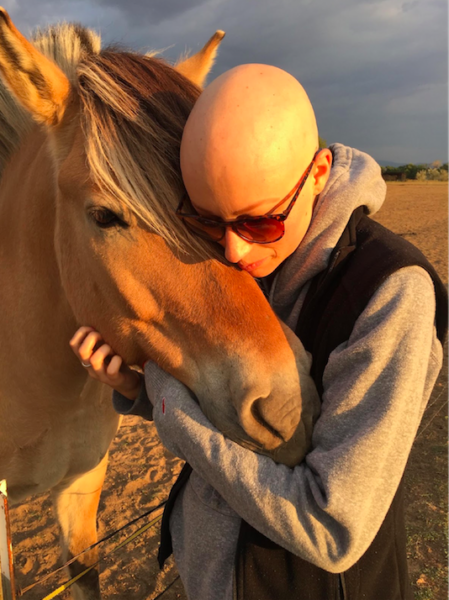 My general practitioner told me it was just a bruise in the muscle that was causing the swelling. And after months of me hounding for more tests and answers, I was finally granted an MRI on my right leg. The doctor called me with my MRI report while I was getting ready to board a tiny airplane to go to the middle of nowhere in Kansas for work.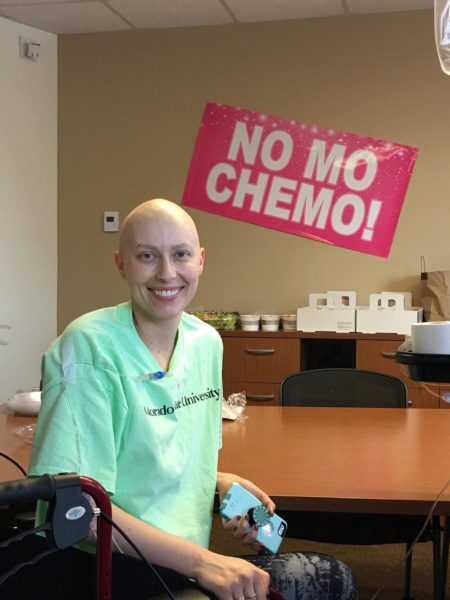 He told me that it "looks like cancer, but we don't know how bad or how active". That whole call is a blur in my memory and it felt like something you'd see on a dramatic TV series or movie. After returning from my work trip, I got a biopsy to get even more info.
Fast forward a little bit, I had started extreme hormone treatments to begin the process of harvesting my eggs. The chemo regimen I was about to start was going to give me a 50/50 chance of completely ruining my reproductive system. I had to start that process ASAP since my oncologist wanted me to start chemotherapy, and I can't do both at the same time.
The chemotherapy that I got was rough and tough. I even had to go on Long Term Disability for my job since I was not going to be able to work during my chemo treatments. I did 18 rounds of alternating between 5 days a week and 2 days a week, every two weeks, for 6 hours a day. Complicated, and gross. All in all, that's about 54 days of chemo treatment. And that doesn't include hospital visits, surgeries, blood and platelet transfusions, fluid bags, white blood cell stimulant shots or blood workdays. My "treatment phase" took about a year to complete. And my final day of treatment was on February 5th of 2018.
Follow Alyssa on Facebook: @Whenlifegivesyoucancer and Instagram: _whenlifegivesyoucancer